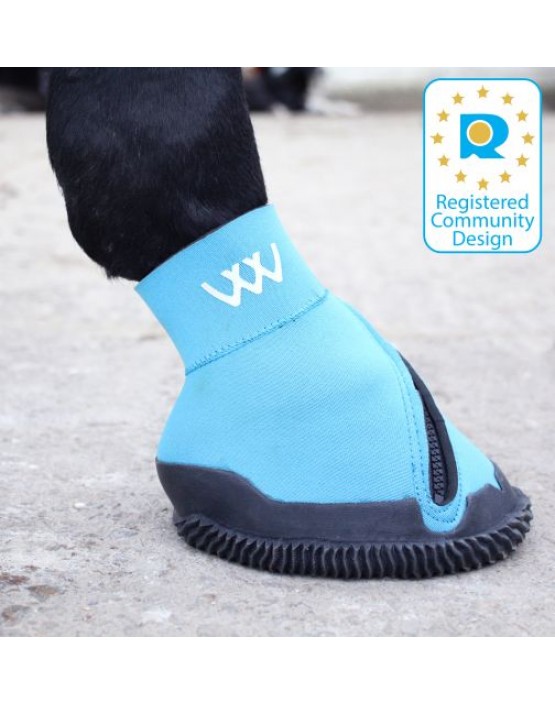 Woof Medical Hoof Boot
From £31.50 (inc. VAT) £26.25 (ex. VAT)
---
Woof's unique close fitting hoof boot is designed to keep wounds, poultices and dressings clean. This durable boot is suitable for stable and turnout use enabling your horse to enjoy some freedom instead of being kept in his stable.
Features:
Grooved sole for extra grip
Kevlar® interior for durability
Asymmetric zip to give the boot a really close fit (and prevent it opening) stopping bedding and other debris from getting inside
Designed for use with or without a shoe
Can assist in a number of ailments to the foot such as abscesses, punctured sole or bruised sole.
To get the best out of your Medical Hoof Boot:
1. Overreaching
Do not use the Medical Hoof Boot (MHB) in place of an overreach boot to prevent shoe loss. The MHB is not designed for this application and will not protect against overreaching.
Note: It is always recommend using a deep overreach boot over the MHB to protect both the horse and the MHB from damage.
2. Measure, Measure, Measure…
The MHB is designed to be a snug fit so it doesn't fall off. If you do not measure accurately or buy a size too big it can result in damage to the MHB due to the boot being trodden on by the other foot.
3. Measuring Rules:
i) Measure width carefully before bandaging, with or without shoe
ii) Choose size per guide (don't go to next size up)
iii) No need to add extra for dressings
Follow this link to Woof's website to see a detailed explanation of fitting:
Customer Reviews
Write A Review